Ric Hall and Ron Schmitt began their collaborative style in 1983. Prior to that they would get together for friendly critiques of one another's individual work. One day, frustrated by the inability of speech to convey visual ideas, one of the artists handed the brush to the other, and said , "Show me". After that they would often step into each others work.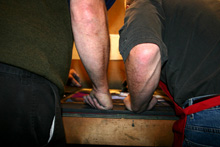 This led to a two heads are better than one type of exploration, and ultimately to working in tandem. The two leapt into oils, water colors, gauche, egg tempera, acrylic, and more. There was no material for two or three dimensions that wasn't abused in their hands. This exploration continued until they stumbled upon a set of soft pastels that had been left to Ric by a patron. They realized in short order that they had found the perfect medium for their needs.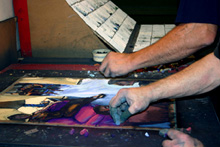 Pastels proved to be quick and flexible; they are premixed, and don't require the drying time necessary to so many other mediums. Even the one ostensible drawback, vulnerability of the loose pigment, was overcome by fixing the painting in layers at different intervals. This was accomplished using an ultra fast drying fixative of their own invention.
Standing side by side, they work simultaneously on a horizontal surface. Periodically they place the piece on an easel to view the progress from a fresh perspective. There is little communication until it becomes apparent that the piece is beginning to develop a direction. At that time they may finally discuss it in a very general fashion. The artists allow each painting to more or less reveal itself.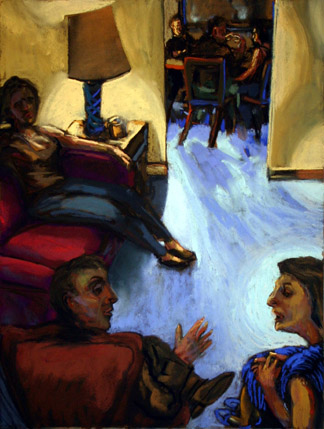 "Odd Man Out" was completed in 2004
-
Photo by Linda Lyons
In the early years, as they learned to cope with working in this fashion, abstract organic images were the rule. Gradually, a kind of collective subconscious developed, and the images began to display a more figurative, often surrealistic, sense of narrative. The maturity of their style has evolved significantly from those early abstracts.